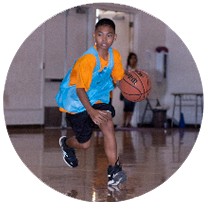 Open To Boys And GirlsAges 12-18
Advanced Skills Clinic
"I think 'Team First'…it allows me to succeed. It allows my Team to succeed"

- LeBron James
These sessions are intended for players who want to continue to improve their fundamental skill base and apply these skills in more game like situations.
The Advanced Skills curriculum is designed so that each of our sessions connects with and builds upon the others. Regardless of which position you play, if you're a dedicated player, every one of our sessions will enhance your game!
Core
The "Core" are individual offensive skills that are crucial to a player's success. In the same way a strong foundation supports the rest of house, core skills serve the same purpose in building a complete basketball player. We place an emphasis on the development of the "Core" in all Advanced Clinic sessions.
Jump Stops
Learn to play the game with balance & burst.
Pivots
Understand pivoting techniques to help you create passing lanes & escape defensive pressure.
Triple Threat Position
Learn the base position of "pass, shoot, dribble" that will make you hard to guard on offense.
We will use 3 on 3, 4 on 4 & 5 on 5 scrimmages in all of our Advanced Skills clinic sessions to help players apply what they are learning in game like situations.
Spring 2020
Focus
Develop the individual player's offensive skills so that he/she will become a better TEAM player.
Concepts Covered
Develop better body control, footwork &amp balance
Learn how to move without the ball &amp create leads to get open
Find out how to make yourself "Hard to Guard" on offense
Discover 1 on 1 moves to break your defender down out of Triple Threat position
Understand how to finish strongly at the rim
"2 Man Game" basketball – learn how to effectively run the Pick & Roll
And much more!
Summer 2020
Focus
Enhance players' understanding of offensive concepts in half court & full court situations.
Concepts Covered
Learn the fundamentals of Motion Offense using "Read & React" principles
Discover how to play effectively in fast break situations
Learn how to attack the defense in the open court
Find out the right way to screen, cut and penetrate & pitch
Understand offensive timing and proper spacing on the court
And much more!
Fall 2020
Focus
To get players ready for the upcoming basketball season.
Concepts Covered
Learn the basics of Man to Man defense
Understand how to become a disruptive force on the defensive end of the court
Learn the principles of zone offense & how to break down a zone defense
Find out how to become an effective communicator with your teammates
Discover simple things that you can do to build team chemistry & cohesion
And much more!
Clinic Dates & Times
Spring Advanced Skills Clinic
10:45 am to 12:15 pm @ Sacred Hearts Academy School Gym
March 29 / April 5, 11, 19, 26 / May 3, 2020
(All Sundays - Except Saturday April 11)
Summer Advanced Skills Clinic - MILILANI
10:45 am to 12:15 pm @ Hanalani Schools Gym
May 30 / June 6, 13, 20, 27/ July 11, 2020
(All Saturdays - No clinic July 4)
Fall Advanced Skills Clinic
10:45 am to 12:15 pm @ Sacred Hearts Academy School Gym
September 13, 20, 27 / October 4, 11, 18, 2020 (All Sundays)
Open to boys & girls ages 12-18. Players will be grouped according to age & appropriate skill level.
There is a limit of 30 players for the Advanced Skills Clinic.
Each player receives 9 total hours of instruction.
NOTE: Please wear basketball shoes, t-shirts & gym shorts. No street clothes, hats, jewelry or sweat pants.
Price & Registration
Price of Each 6-Week Advanced Skills Clinic is $185
Full payment needs to be submitted with registration form.
Accepted Method of Payment -- Credit Card or Check
Credit card payment can be made when completing online registration form.
If payment is made by check, download & complete registration form & mail in with your check.
Make check payable to: "Performance Basketball Clinics LLC"
Mailing Address
Performance Basketball Clinics • 520 Lunalilo Home Road #231 Honolulu, HI 96825
Location of Clinics
Spring Session
@ Sacred Hearts Academy School Gym, 3253 Waialae Ave., Honolulu, HI 96816
Summer Session - MILILANI
@ Mililani-Hanalani Schools Gym, 94-294 Anania Dr., Mililani, HI 96789
Fall Session
@ Sacred Hearts Academy School Gym, 3253 Waialae Ave., Honolulu, HI 96816
Online Registration
Download Form